6 Steps To Take Your Dog on a Vacation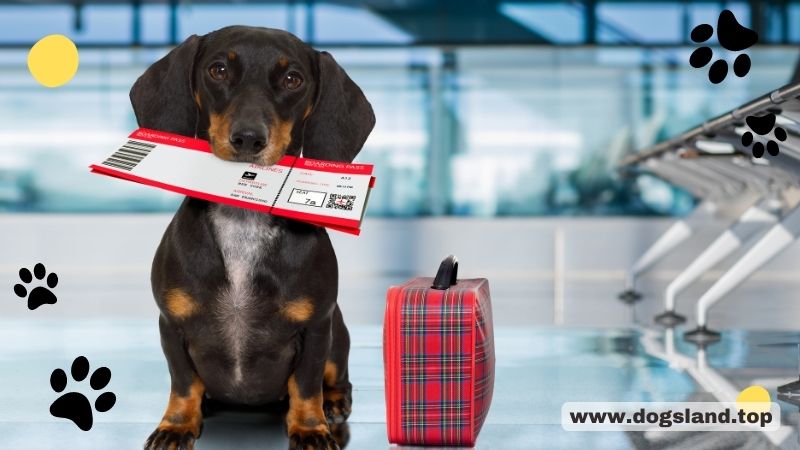 Introduction
Going on vacation with your dog might be a terrific opportunity to bond with him and make lifelong memories. Nonetheless, make sure that your dog's ease and security are your main concerns on all trips.
Taking your dog on vacation may be a lot of fun if you follow these 6 simple tips! It's important to plan ahead and be aware of potential dangers while travelling with your dog.
This includes choosing pet-friendly lodging, visiting a veterinarian before leaving, making a thorough timetable, and carefully preparing your dog for travel. If you and your dog stick to these rules, your trip will be enjoyable and worry-free.
These six steps involved in planning a vacation with your dog: three to consider before you go, and three while you're sunbathing.
1. What suits your dog the best before taking in a vacation?
First and foremost, if you want to take dog on vacation with the family, you need to find a place to stay. The comfort and safety of your dog should come before your vacation plans.
All the "dog-friendly" signs you see on the countless websites you visit might not always correspond to the reality you eventually discover. Always call ahead to make sure their pet policy meets your needs and to confirm it before making any reservations.
You can discuss any concerns you may have with the hotel manager that are directly relevant to the requirement of your dog. Once making a decision, you can get a sense of how "dog-friendly" they really are. I was wondering whether they had any dogs of their own.
2. Consult a veterinarian before departing
Prior to leaving and taking your dog on a vacation, your dog must have a complete physical examination. A "one-over" is actually advised at least once a year. It is crucial to make sure your dog sees the doctor before travelling because they may come into contact with other dogs that may be carrying pests.
Updating your pet's vaccines and meds is an important part of ensuring their continued health and happiness. You should definitely get your dog microchipped if you haven't already.
If you live close to a dogs trust, you can get the surgery done for free; otherwise, it will cost you between £10 and £40 at a veterinary office.
Pet insurance is yet another sensible option to take into account. In the unfortunate event that your dog gets sick, you won't be out of pocket.
3. Make sure you have a detailed schedule before you go
When you do locate dog-friendly lodging, your job has only just begun. The next step is to complete the picture in order to see the bigger picture. Make a list of the places for taking your dog on a vacation and the things you want to do while you are still seated at the kitchen table.
The secret is research. Create a list of all the restaurants and cafes in your area that welcome dogs. Having access to internet tools is crucial to making the most of a difficult circumstance. The next thing to do is compile a shopping list of everything your dog will need.
Here's a list of the items your dog will need:
A leash
A bowl for food and water
A collar
Dog waste bags
ID tags
A bed
Shampoo
An old towel
Even though it might not be the end of the world, there are some things you must make sure you don't forget.
Your dog's photo and current medication schedule will be included. Having them planned out in advance will allow you to enjoy your trip without worrying about missing anything. Your successful trip away will be due to your planning and organization.
4. Taking your dog wherever you go
Before taking your dog on a trip, whether in a car or on a bus, make sure he or she is used to travelling. If your dog isn't used to long car rides, you should take them on a few short ones first. Always put your own safety first.
For both you and your dog's sakes, they must be secured. A dog box can be a safe and practical option because it restricts the dog's movement and thus lessens the likelihood of distracting the driver.
It is strongly advised that, in the event of accidents, dogs be kept away from airbags. It's recommended to make a comfort stop every two hours so your dog may stretch their legs. Keep medications in the car for those sensitive canines who might get motion sickness.
Avoid giving them food close to the time of travel (another smart thing to put on your inventory list) and avoid feeding them.
5. A second home for your pet
As soon as you arrive at your vacation spot, do a familiarization walk. A leisurely stroll can help your dog get used to his new surroundings quickly. This physical activity will serve to both relax and tyre hem out after a long time spent in a car or bus.
You shouldn't leave your dog alone for long periods of time. It's possible that the animals will grow highly upset. Because of their confusion, they may assume the worst if left alone. This may result in destructive scratching fits and the expensive destruction of furniture.
6. Being watchful to ensure your dog's safety
You and your dog have settled in after your long journey, you made it safely to your destination, and you have finally begun to enjoy your holiday. As you start to transition into vacation mode at this point, it becomes very simple to lose awareness of those potential threats lurking around the corner.
Your dog's safety should be at the top of your mind at all times. Don't become careless or dumb just because you've taken a break from your normal routine. The vast majority of dog breeds are exceptionally flexible and fast to learn new things.
Changing one's daily routine might be a source of anxiety. One way to make your dog feel more at ease in new situations is to bring along a comfort item from home, such as a blanket or toy. Consistent mealtimes with your regular routine at home are recommended.
Conclusion
In conclusion, if you want to take Fido on vacation with you, you'll need to do some advance planning. There are a number of things you can do to make sure your dog is comfortable and safe during travel, including finding a pet-friendly place to stay, talking to a vet, making a detailed plan, and using common sense.
You should always keep an eye out for potential dangers and help your dog get used to their new environment. You and your dog can have a wonderful trip together if you put in the time and effort to prepare ahead of time.
Video: Take Your Dog on a Vacation