Top 10 Dog Lovers Jobs & Careers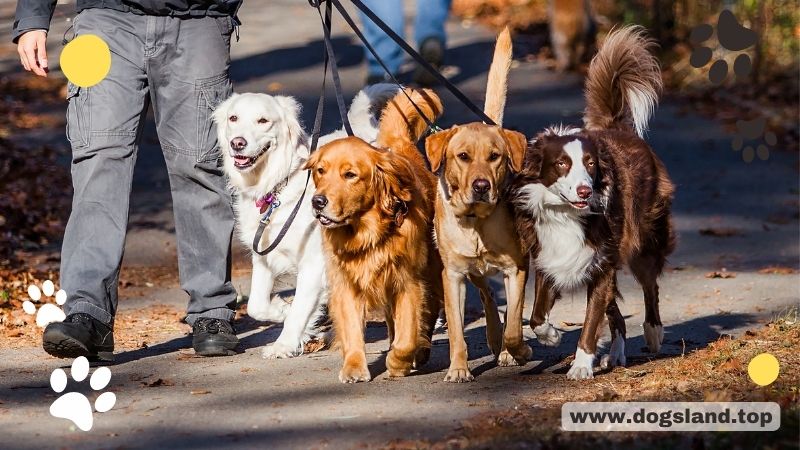 Introduction
You love dogs, so why not turn your passion for them into a profession? in this article, I'll list the top 10 dog lovers jobs…
Nothing makes you happier than spending time with a fluffy puppy at your side, so why not turn your "dog loving" into a career?
Get a doggy day or night job, dust out your résumé, and you'll never have to work a job again. You're now thinking what the finest careers are for dog lovers.
5 Reasons Why Working with Dogs Is a Fantastic Career
1. A love for dogs
Working in a career related to dogs is a terrific method to satisfy your interest and connect with dogs on a daily basis if you have a strong affection for dogs. Every day, whether you're a veterinarian or a stylist, you'll have the opportunity to engage with and help these amazing creatures.
2. Career fulfillment
Work with dogs can bring a lot of contentment and satisfaction in your career. You can be proud of the work you do every day, whether it is saving dogs' lives as a veterinarian, training them as a behaviorist, or simply making them look and feel their best as a groomer.
3. The ability to make a difference
Dogs are magnificent animals, and working with them allows you to make a difference in their lives. Dogs in need can be helped by rescuing them, treating them when they are ill, and increasing their quality of life via training and socialization.
4. A chance to work with dogs
For individuals who adore animals, working with dogs allows them to interact with intelligent, loyal, and loving creatures. You'll be able to build strong friendships with the dogs you work with, and the sense of accomplishment that comes from caring for them will be unparalleled.
5. A dynamic work environment
Working with dogs is a never-ending learning experience. Every dog is unique, and each day brings new challenges and opportunity to learn and grow. Working in a veterinarian clinic, kennel, or dog grooming facility will never get old because of the variety of dogs and scenarios you will experience.
After exploring the compelling reasons why a career with dogs is an incredible opportunity, it's time to delve deeper into the top 10 in-demand careers that allow you to work with these beloved animals…
Top 10 Dog Lovers Jobs:
1. Veterinary doctor (Top Dog Career)
The majority of people contemplate becoming a veterinarian when considering a career working with animals. In fact, it's one of the most sought-after careers among career day participants. Sadly, very few of them actually achieve their goals.
Because training to become a veterinarian takes more than a few hours of study, much like training to become a doctor. You can only accomplish this after committing to your studies for a number of years. You'll need 8–10 years to prepare for this highly specialized vocation.
If you persist, you'll be rewarded with what many people regard as the most illustrious professional path in animals. Working with a variety of animals, enhancing and saving their lives, and yes, assisting them in transitioning when the time comes, will be how you'll get to spend your days.
Choosing to work as a veterinary technician is an alternative. After completing a two-year training programme, you can assist with routine veterinarian activities.
2. Puppy Walker
Do you enjoy taking dogs for walks in the park? Because you might be suited for a career as a dog walker! Since they lack the time or skills to do it themselves, many people depend on others to exercise and socialize their dogs.
Find a customer, introduce yourself to their dog, grab the leash, and enjoy yourself! Yes, get paid for it as well. Many dogs might be left alone while their owners go about their daily lives, such as going to work. Their pups and dogs require care and company.
Without having to pay for their daily upkeep and cover their feeding costs, you may save the day, make them feel better, and enjoy being among a variety of dogs.
3. Pawtographer
Do you enjoy capturing pictures and dogs? If so, this is the position for you! With a career in canine photography, you may bring praise to Rover's gorgeous pictures!
Many dog owners want to post pictures of their puppies on social media, like Instagram, but many aren't particularly good photographers. You might be able to satisfy their needs.
You've come to the right place if your specialty is snagging Rover and Spot in their sexiest attire. This position was created specifically for you. Put your dog's friends or other canines from the dog park together to create your portfolio.
then begin distributing information to secure compensated gigs. Think about how much fun it would be to attend dog-friendly weddings, doggie parties, and fancy boutique photo shoots as a special guest.
4. Dog Sitter
You enjoy sitting as well as dogs? Here's a fantastic concept that might work out perfectly for you! Become a seasoned dog sitter. Take care of the pups of a fellow dog-lover parent while they are on vacation or away on a trip.
Hang out with the pack at any time of day or night, for a few days or only sometimes. You will receive a wonderful break for which you will be generously compensated.
Did you realize that your side gig as a dog sitter might introduce you to dozens or even hundreds of puppies? Oh yes. You'll simultaneously be having fun and scratching your doggie love itch.
5. Sales Associate in a Pet Store
Pet stores are entertaining settings, and as a sales associate, you won't need to be an expert to enjoy spending time there. All you need is a positive attitude, a love of animals, and the desire to provide a hand to other animal lovers.
6. Puppy Trainer
How satisfying is it when your dog truly complies with your request? "Sit" and does Rover truly sit down? What you are is a dog training miracle!
Other dog owners have no idea how to train their pets to behave. Being a dog trainer might bring you scrumptious joy if you have a knack for instruction. This profession requires a lot of commitment, tolerance, and patience, as well as a sharp eye for behavior and a strong dose of canine psychology.
Then, you'll be able to teach a variety of crucial skills to dogs of multiple levels, breeds, and sizes. Bring them along while you teach them the fundamentals of obedience as a puppy, good leash etiquette, a proper and reliable recall, and playing with the larger dogs at dog events like Crufts and the Westminster Kennel Club!
7. Dog Chef / Baker
Dry, flavorless kibble that doesn't match the nutritional demands of dogs is unacceptable. Dogs today are pleading for food of a higher calibre, which is made for humans. That's where you step in with meals created by chefs using wholesome, natural ingredients.
The discerning dog parent of today wants top-notch canine cooks to elevate Rover's dining experience to a whole 'nother level with creative, sound baked products and/or gourmet top shelf meals.
This really fun, amazing career can begin in your kitchen if you enjoy baking and cooking. And fortunately for you AND your resident dog tester, you can take this career to the dining room and the bank!
8. Groomer
While some dogs are born cute and don't require regular trimming, some dogs with untidy coats need effort. Your scissors and excellent sense of balance and style will come in handy here.
Even better, you can focus on converting rough diamonds that are in dire need of a bath and an easy-care trim. You can receive training through on-the-job apprenticeships, did you know that? Yes, you can receive compensation for studying under a skilled groomer.
9. Working in a Dogs Shelter
Helping the homeless, abandoned, and rescued dogs find new permanent homes is one of the most crucial tasks for dog lovers. Staff members receive a paycheck, whereas volunteers do not.
Both can make you feel good and healthy amounts of nice fuzzies when you improve the lives of another living thing. Volunteers provide companionship for animals, boost staff morale, and act as a temporary family for animals in search of a permanent home.
In order for pet parents to discover their perfect dog and the dogs to find happy homes, staff personnel keep everything going smoothly. There is simply no way to quantify that, and it was time well spent.
10. Train to communicate with animals
Dogs and all other animals use energy and telepathy to communicate mind to mind and heart to heart. Like most individuals, you may have forgotten the skills you were born with to perform this.
No matter what other career you choose, being able to communicate with dogs is THE most crucial animal job ability you can have.
Your capacity to understand what the dog is experiencing and thinking will be needed by veterinarians, trainers, groomers, dog walkers, pet sitters, and everyone else.
You become a better dog lover and protector as well as a more efficient dog trainer when you can ask them questions, explain methods, talk about behavior issues and training, and get them ready for what's to come.
Therefore, no matter what line of work you decide to pursue, start by learning how to communicate with dogs so you may access their secret inner world of needs, wants, and emotions.
Conclusion:
Finally, there are several careers and jobs available for people who love dogs and care about their well-being. There are numerous avenues to choose, ranging from veterinary medicine to dog grooming and training, each offering unique chances to make a good difference in the lives of dogs.
Whether you like working in a veterinary clinic, kennel, or from home, the top 10 dog loving jobs listed in this article are a good place to start if you want to work with these lovable four-legged creatures. So, if you have a great affinity for dogs, think about pursuing a career in one of these rewarding industries.
Video: 15 Awesome Jobs for Animal Lovers